Umbrella Security Services - Security Solihull
At Umbrella Security Services, the standard of our security services are second to none. We pride ourselves on the service we provide to all of our clients across the UK including areas within the West Midlands such as Solihull and Birmingham, all the way up to Manchester and the North West. Whether you are in need of event security, security guards, or door supervisors across Solihull, we can provide you with the security service to suit your requirements. Our security company comes highly recommended by a wide range of Solihull businesses in a variety of industry sectors from to retail, construction to commercial.
As a professional security company with top industry accreditations, all of our security guards are SIA approved and have taken on all relevant training to ensure your event will run smoothly. What's more, our systems are all of the very highest standards and have many innovative features built into their design to ensure optimum security performance for your commercial premises. It is extremely important to us that we remain innovative and forward-thinking, always setting the standard for our competitors. As a result, we are constantly looking for ways that we can implement the latest technology to improve the security provisions of our clients.
We're also based in Edgbaston ourselves, which means Solihull is an area we know extremely well. As a result, we've got the local knowledge and understanding to deliver the very best service possible, from a security perspective. Our reputation in the area is outstanding, and there's a good reason for that.
Event Security in Solihull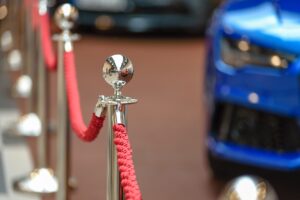 To augment our security services, we have ensured that our security guards are supplied with top of the line security equipment including body-worn video equipment, two-way radios, and patrol logging systems. Alongside the skills of our superior team and our industry accreditations, we are pleased to also provide other security services such as CCTV installation, intruder alarms, and access control, all of which are expertly installed and maintained by our fully qualified engineers. All of these options allow us to provide our Solihull customers with comprehensive and reliable event security solutions that can be tailored according to specific requirements.
We provide event security services to a variety of Solihull businesses, organisations and companies. From major events and shows to smaller gatherings, we're perfectly situated to support customers around the clock and across the West Midlands. Whether you need to hire event security for a football match, festival, concert or music events, or large party, our team are more than qualified to assist and provide the services you require to make it safe and successful.
Our experienced team
With a management team boasting a combined industry experience of over 80 years, Umbrella Security Services has the relevant know-how to tackle any kind of job. We are more than happy to work in a wide range of industries, whether your requirements are focused on events, hotels, businesses, or any other sector. The diversity of our team means we have experts who can guide and recommend the best security solution to work in specific types of premises, offering the most effective solutions based on your individual situation. We pride ourselves on exceeding expectations and going above and beyond for our clients, no matter the security brief. This is precisely why we are the first and only choice for corporations across Solihull in need of a professional security company.
The team here at Umbrella Security Services has accumulated a wealth of experience from working with a varied range of industries, making us the first choice for event security in Solihull and beyond. Our unparalleled services have been utilised to provide exceptional security services for many events nationwide as well as all-round protection for hotels, business premises, warehouses, and more.
The diversity of our team means that we have experts in all industries who can guide and recommend the best security solution to take on specific types of business. We are dedicated to providing an outstanding customer service each and every time, evidenced by the consistently positive feedback and recommendations from our Solihull clients.
Get in touch with Umbrella Security Services
For more information about the security services that we can provide throughout Solihull and surrounding areas, please don't hesitate to contact us through our website or by phone on 0121 5542761 where we will be happy to help with any questions you have. Seeing as we're based in Edgbaston, we're only a short trip away from you, and you can pop in and see us anytime.